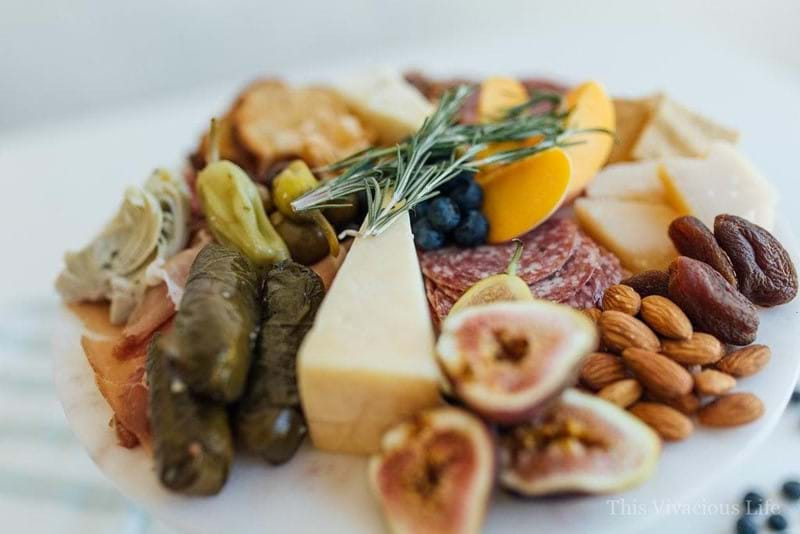 We've all been there; a last-minute decision made has thrown you into the party hosting spotlight. Never one to back down for an opportunity to spend time with those nearest and dearest, you happily agree. And then you remember that you have a few gluten-free friends and family attending. Never fear, Great Temptations have your back! With these gluten-free entertaining ideas, you're sure to keep all bellies happy and full!
Please note: the most important thing to keep in mind when preparing food for gluten intolerant and coeliac guests is that the gluten-free products and items must not come into contact with food containing gluten.
Gluten-free Charcuterie and Cheeseboard
Recipe created by This Vivacious Life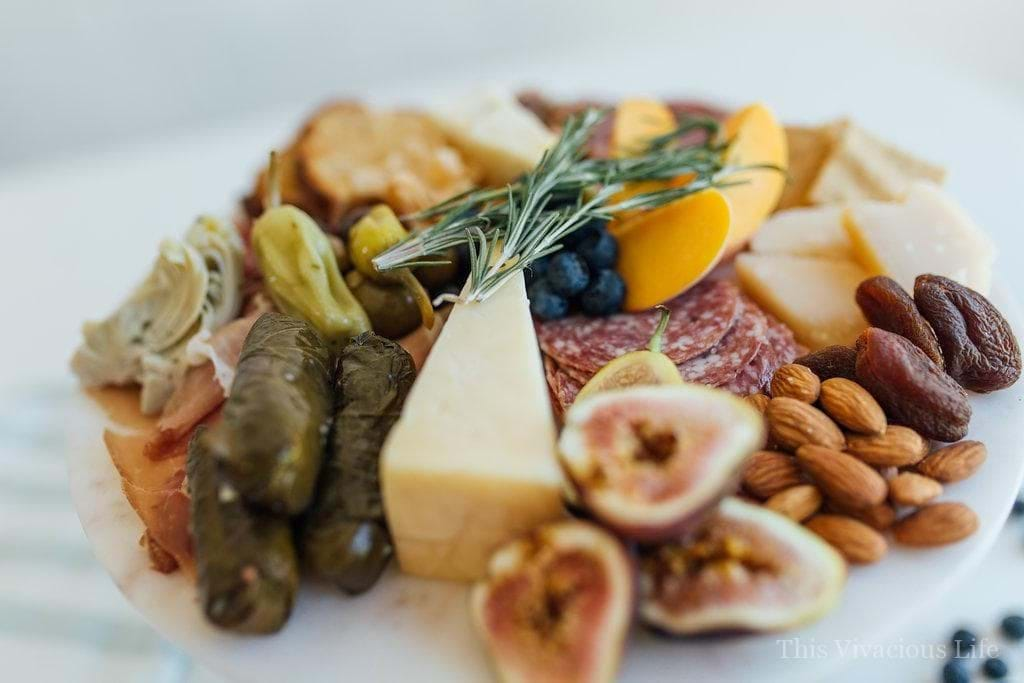 Start your gathering in style with this charcuterie and cheese board. It also doubles as the perfect centrepiece and ideal dish for grazing as guests arrive.
You will need:
A wooden board (circular or rectangle)
Gluten-free crackers of your choice
3 kinds of hard cheeses: think smoked cheddar, buffalo mozzarella and pecorino 
Deli meats. Include varieties such as Italian dry salami, prosciutto and soppressata
Let's not forget your meat-free grazing options! These include sliced figs, dried apricots, grapes, garlic and chilli infused olives, almonds and Greek stuffed grape leaves with rice (store-bought or try your hand at homemade using this recipe)
Styling tip: start with the cheeses first, followed by crackers and meats. Fill the gaps with your non-meat items. Garnish the board with sprigs of rosemary for the final touch.
Tomato Bocconcini Balls
Inspiration from Best Recipes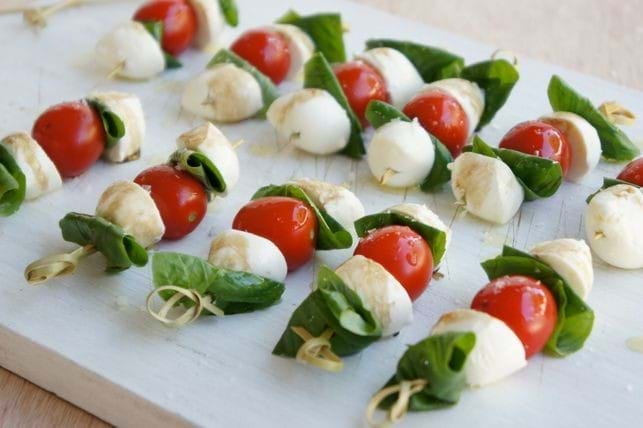 The perfect appetiser for the festive season!
Ingredients:
Cherry tomato
Baby bocconcini
Fresh basil
Balsamic vinegar 
(that's it!) 
Prepare your ingredients by cutting cherry tomatoes and bocconcini balls in half. Grab your mini skewers and thread the tomato, basil leaf and bocconcini ball. Continue pattern until skewer is full. And voila!
Gluten-Free Mozzarella Pizza
Recipe courtesy of The Loopy Whisk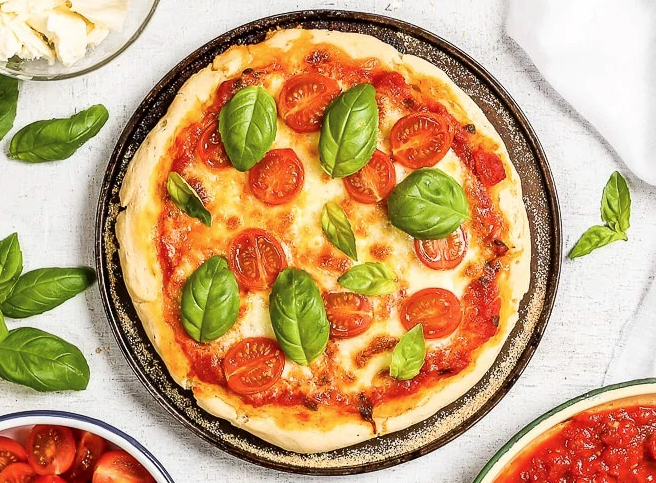 If you've ever had a gluten-free pizza you may have experienced a dry almost cardboard-like base (it's a thing!). Save your guests from the painful experience with this recipe that will leave them thinking "I can't believe it's not wheat!".
Pizza Dough Ingredients:
Gluten-free flour
Xantham gum
Salt
Baking powder
Yeast
Olive oil
Pinch of salt
Lukewarm water (for mixing)
Method:
Mix together the lukewarm water, olive oil, sugar and yeast, and then add in gluten-free flour, salt, baking powder and xantham gum. Mix until you get smooth yet sticky consistency. 
Transfer sticky dough onto a flat surface (such as a kitchen bench) and begin kneading the dough. To do this you simply spread the sticky dough onto the surface until it's flat and then 'scrape' it back up into a ball. Repeat this process two times. 
If you're preparing this during the summer months, allow 2 hours for proofing. That's fancy chef speak for, "let the dough sit in the room". If you have the aircon set to rival that of Elsa's snow magic, allow three hours for proofing.
Next up, shaping the pizza and adding your favourite gluten-free toppings! Grab your pizza pan, and spread the dough out into a circle. Follow with tomato and garlic paste, halved cherry tomatoes, mozzarella and basil.
Pop in the oven to bake until cheese is melted, and crust edges are golden.
Gluten-Free Double Choc-Chip and Orange and Poppyseed Muffins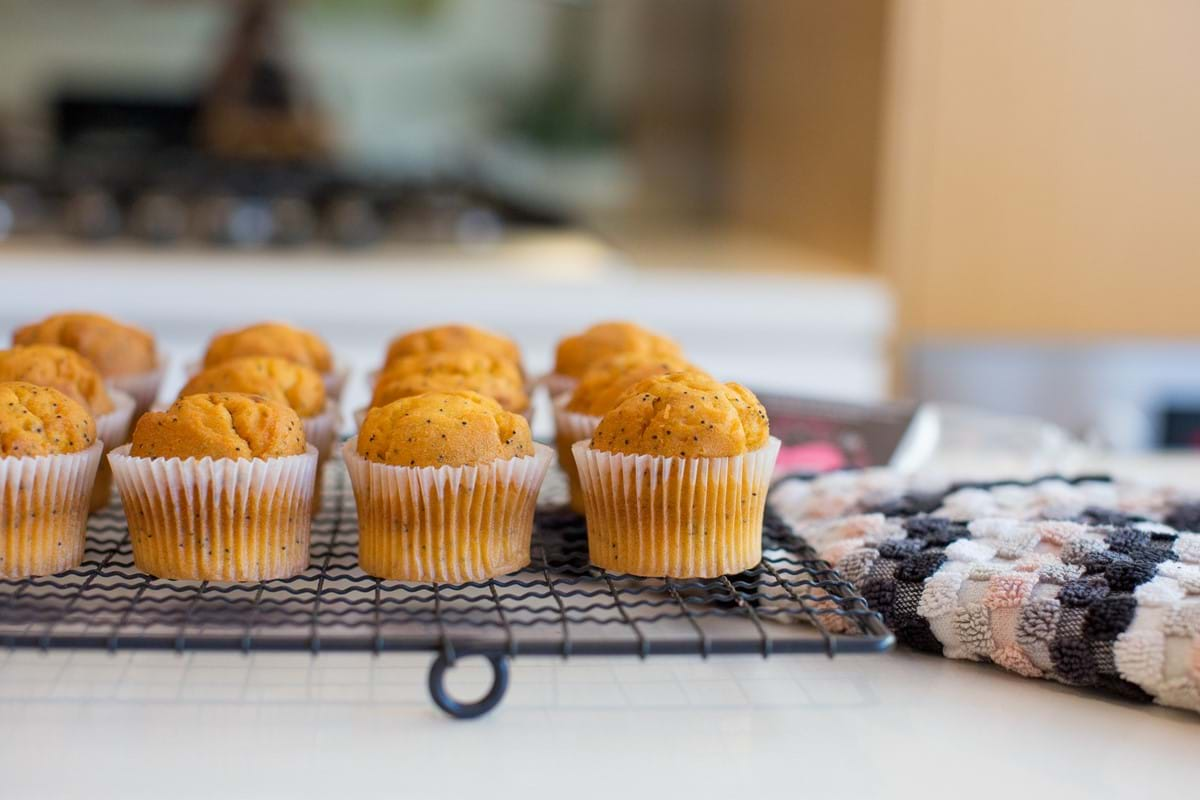 We've saved the most complex dish for last!
Ready?... Jump into your car (or order online for extra efficiency) and head to your local Woolworths, Coles Express Store or Independent Grocer to purchase some of our delicious gluten-free muffins. They're Aussie made and 100% gluten-free. Our choc chip muffins are decadent and light and filled with rich chocolate drops throughout. The Orange and Poppyseed are made with real orange pieces and orange juice for that zesty zing. They're light and fluffy and guaranteed to be a crowd-pleaser this Christmas! You can also buy online, so add them to your next weekly shop!