Make your next get together with friends extra delicious with our brand new range of CADBURY Cupcakes and Muffins
Made in Western Australia by Great Temptations, our local family bakery is now manufacturing a number of fresh products for CADBURY brands including CADBURY DAIRY MILK Cupcakes, CADBURY TWIRL Cupcakes, CADBURY CRUNCHIE Cupcakes and CADBURY DAIRY MILK FREDDO Cupcakes. Check out the full range here.
These delicious new treats are just the thing to bring friends and family together.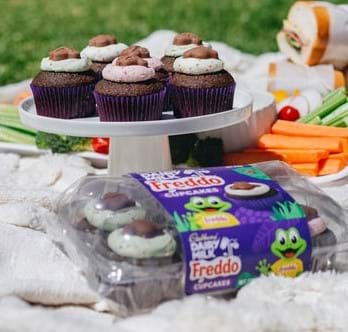 Cadbury, Dairy Milk, Cadbury Dairy Milk Freddo, Oreo, Crunchie, Twirl and the Colour Purple are trademarks of Mondelez International group used under licence.