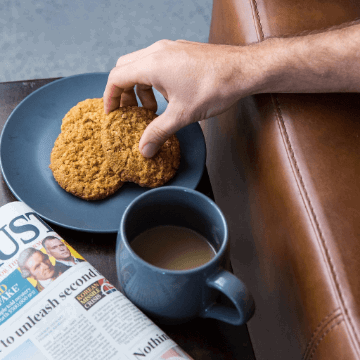 Lockdown is in full force, so we're all spending a lot more time indoors. So we thought we've matched our favourite sweet treat movies with some of our favourite sweet treats!  
Watching the crazy world of Willy Wonka? Match that with our very own crazy creation, Mufnuts! Catching up on Sugar Rush on Netfix? Grab some fabulously colourful fairy cakes and enjoy!
Watching these visual treats with a Great Temptations goodie in hand is guaranteed to bring a smile to your face. So, indulge in a bit of you time, grab your favourite treat and settle in with one of these brilliant foodie movies and shows.
Don't forget, if your cupboard is looking a little bare, you can order our entire range online now and have your treats delivered right to your door.
1.      Willy Wonka and the Chocolate Factory
This HAS to be the original (sorry, Johnny Depp) with Gene Wilder. We just love watching this crazy, colourful world come to life and think it's the best adaptation of Roald Dahl's incredible book. This one is perfect to enjoy with the kids too..... and maybe teach them some life lessons along the way! 😉 Grab some of our very own crazy inventions - Mufnutz! A cross between a muffin and a doughnut sprinkled with cinnamon and stuffed with jam, they'll elevate your viewing pleasure!
2.      Home Alone 2
One of our favourite scenes as children was the hotel room service order. Watching Kevin eat that giant ice cream Sundae was just brilliant. This film is set in New York, so you can also take a virtual holiday, marvelling at the amazing backdrop that is the Big Apple. You've got to match this with a massive ice cream Sundae, so grab the ice cream (three scoops, not two, you're not driving) and warm up some of our brownies in the microwave to create your own super-sized treat – to be eaten in bed, of course.
3.      Marie Antoinette
This is a beautiful period drama which has been told many times but never fails to entertain. The Kirsten Dunst version is particularly stunning and is guaranteed to whet your appetite. For this movie, it's got to be cakes. Our berry swirls or choc swirls are fit for royalty, so make sure you have one of each…. And let them eat cake!
4.      Chocolat
This movie follows the story of a mother, Vianne, and daughter, Anouk as they open a quaint chocolate shop in a small French village during lent. Met with some resistance, this duo eventually win the townspeople over with their confections. This movie was nominated for 5 Academy Awards and 4 Golden Globes. Best enjoyed with something decadent, like a caramel slice or a brownie!
5.      Sugar Rush
This Netflix show has a bit of a cult following and is a colourful, crazy insight into some of the most creative baking minds. We've matched this with our colourful fairy cakes, so you can inject a bit of fun and colour into your lounge room as you watch. Just try not to binge the whole show in one night!