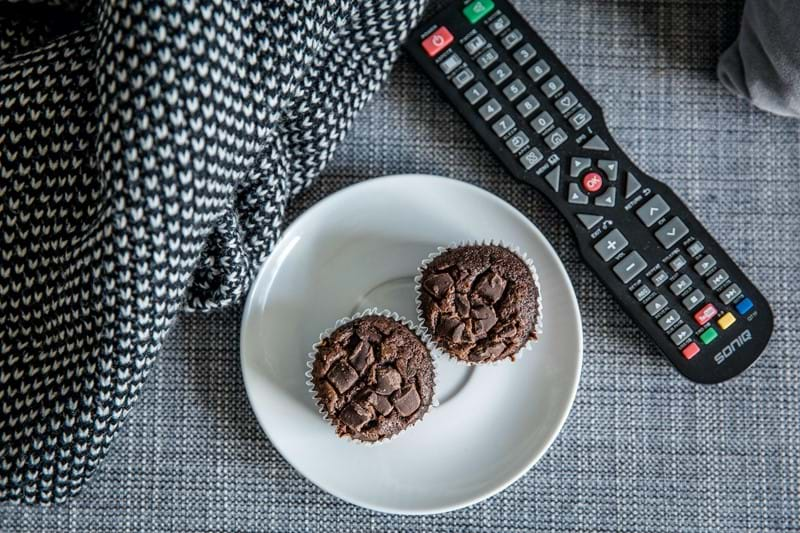 Grab the snacks; here is our round-up of must-stream content this winter, plus hear our expert sweet treat pairings for each.
True Crime
The Sons of Sam: A Descent into Darkness:
What's a series of binge recommendations without some true crime. The Sons of Sam: A Descent into Darkness is a 4-part mini-series that follows the obsessive investigation of journalist Maury Terry, who became convinced that the murders running rampant throughout New York in the 1970s were linked to a satanic cult. Best enjoyed with a fluffy and delicious Lamington to lighten the mood.
Comedy
Schitt's Creek:
With 6 seasons and 80 episodes for your eyeballs to feast upon, Schiit's Creek will keep you entertained well throughout winter. Created by father and son duo Eugene and Dan Levy, the series follows the trials and tribulations of the formerly wealthy Rose family. Newly bankrupt and with only one remaining asset in the form of an ugly town named Schitt's Creek, you can imagine how this plot will pan out. Have some Mufnutz on hand, and brace yourself for some crude humour and belly laughs.
Reality
Selling Sunset:
Ultra-glam and drama-filled, Selling Sunset follows the lives of the glamourous employees at one of LA's most prestigious real estate agencies. Get sucked into the relationships and drama while you perve on the remarkable properties and dream locations. Don't forget the Caramel Slice because what's luxury real estate without luxury dessert.
Romance
Bridgeton:
Whether you've never heard of it before, or you're simply wanting to watch again (no judgement…), Bridgeton is the series for 2021 – we're calling it! Based on Julia Quinn's novels and produced by Shonda Rhimes, Bridgeton is a period drama set in the world of Recency era London during the ton season, when young women make their formal debut to court. Enjoy with a Berry Swirl, and you'll feel as if you're dining alongside Queen Charlotte.
Action
Cobra Kai:
Part action, part comedy-drama, Cobra Kai is based on the 1980s cult flick, The Karate Kid. The narrative continues following the lives of old rivals Daniel and Johhny. With footage of the original film woven in, you'll find yourself transported back to when you first discovered the "wax on, wax off" cinematic sensation. Packed full of action and humour, new rivalries and romances, this is one the whole family can enjoy whilst sharing some Great Temptations Rocky Road. 
Sci-fi
The One:
Based on a not so distant future, in a world where a DNA test is used to find your perfect match, The One is a science fiction series that will leave you questioning your beliefs around love and relationships. Best viewed in a restrained manner (only one season, guys!) and enjoyed over some rich and decadent Choc Speckle Cupcakes.
Horror
The Haunting of Hill House:
Warning: do not watch at home, alone, in the dark. The Haunting of Hill House is a supernatural horror drama series. Created as the first entry in The Haunting Anthology - that's film speak for there are three seasons for you to terrify yourself with. The series has a dual plot as it alternates between two timelines following the lives of 5 adult siblings who are still grappling with the trauma of spending their childhood in Hill House. Riddled with paranormal and horror themes, you'll be watching this one under a blanket whilst gorging on Brownie Slices. We did warn you!